WIN a Copy of the Prize-Winning book 'The Mastery Club,' and Inspire and Motivate Your Child.
I love to read. Whether it is a blog post, a newspaper, a novel or a picture book shared with my children, I can often be found hungrily devouring words.
I treasure my ever-expanding book collection. But every once in a while, a book comes along that just stands out from all the rest. Do you know what I mean?
You know when you pick up a book, and you start to read, and just don't want to stop? I'm talking about the kind of book that you want to tell everyone about, because it just so….so…well, awesome just doesn't seem to quite cover it. I'm not talking just entertaining, I mean a book that changes the way you think about things. -the kind of book that inspires you to be more and do more.
This is that book.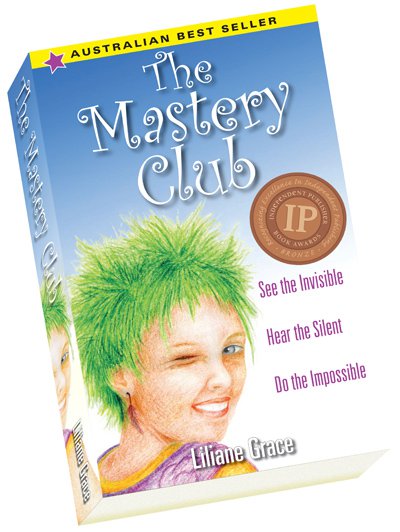 Prize winning author, speaker and writing coach Liliane Grace created The Mastery Club to help people achieve their goals and dreams.
"I love to incorporate my understandings regarding universal laws, life and love into my writing and teaching. My motto is 'Grow into your dreams' – I aim to inspire, educate, empower and entertain!"
'The Mastery Club,' is a fictional story based on five adolescents who learn about their amazing potential and set out to realize their own dreams and although it was originally written for youths, this book is being enjoyed by readers both young and old.
Between the pages of the cover lays a very special gift – the gift that every parent wants to bestow on their child. Empower your child with ideas about unlimited thinking, goal-setting and the positive power of affirmations. This book teaches them that they can be everything they want to be, in a way that is not only easy to understand, but also entertaining and inspiring.
This is what psychologist Ken Pierce has to say about the Mastery Club:
The Mastery Club is a delightful book that engages you quickly in an exploration of the truths of life. The story will entice young and older readers alike to, not just believe in their own genius, but to explore the wonders of their life. I recommend it highly and reference it regularly in seminars and with clients.
If you read nothing else this year – read this. (I am currently reading it for the second time!) You mark my word…this is going to be BIG! It is already attracting attention from filmmakers!
We have a copy of the book to giveaway to one lucky reader.
To enter simply follow the prompts on the rafflecopter widget below…and good luck!