Students Leave Teacher in Tears With Heartwarming Surprise During Video Call Lesson
Students Leave Teacher in Tears With Heartwarming Surprise During Video Call Lesson
As the pandemic continues to wreak havoc around the world, students and teachers everywhere continue to hold classes remotely. The most popular method of holding these classes is via online video links, as you can turn off your camera so that no one has to see you in your pyjamas at two in the afternoon!
But as many students adopt this habit, a lot of teachers are having to conduct their lessons to multiple blank screens, not knowing if their students are even in the room, nevermind interested in their presentation of the lesson.
We can see how quickly this would wear down a teacher who has worked hard to prepare their lesson for their students, hoping to keep their attention throughout their time together.
One class decided to surprise their dedicated teacher with a huge thank you, choreographed perfectly from their homes during his video chat lesson.
A recording of the heartwarming moment was uploaded to TikTok by @Laurenherrle13, captioned: 'Surprised the sweetest teacher on our last day of class', and the clip has racked up a staggering 7.7 million views on social media.
It shows the teacher as the only person with his camera on during a Zoom call as he tries to teach his 19 students, and he asks: "Is it the new cool thing to do, not turn your camera on?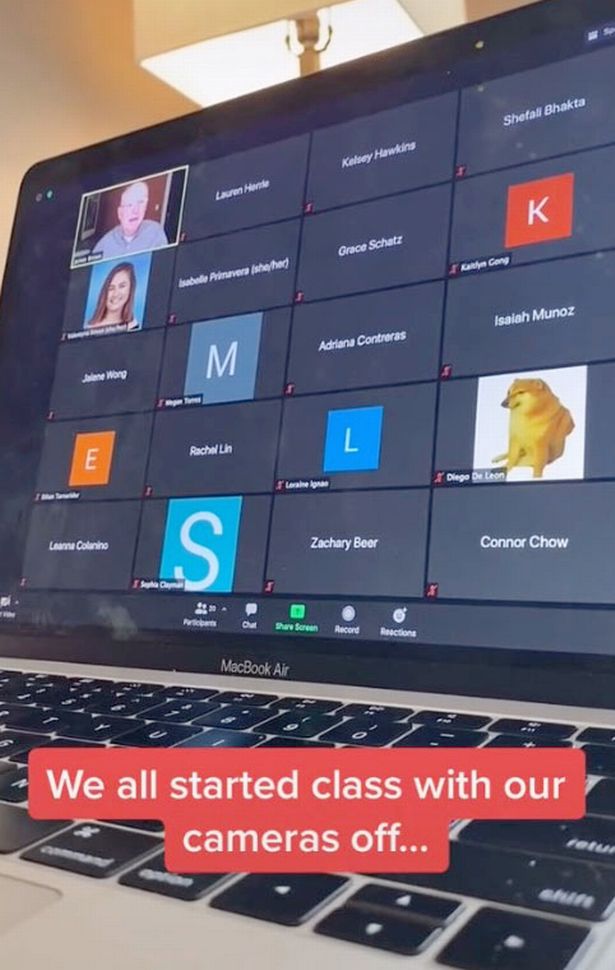 "I've heard that. I've heard that in some classes nobody turns their camera on, including the instructor," as he laughs in disbelief.
He adds: "Okay here we go. Seriously, is it my fault that you have your cameras off?"
But before he can begin to teach to 19 blank screens, one student speaks up to say: "So, Dr Brown we actually kind of wanted to do something."
He asks: "With your cameras off?" and the student asks everyone in the class to reveal the surprise, all turning their cameras on at the same time to show them each holding huge posters with messages to say thank you.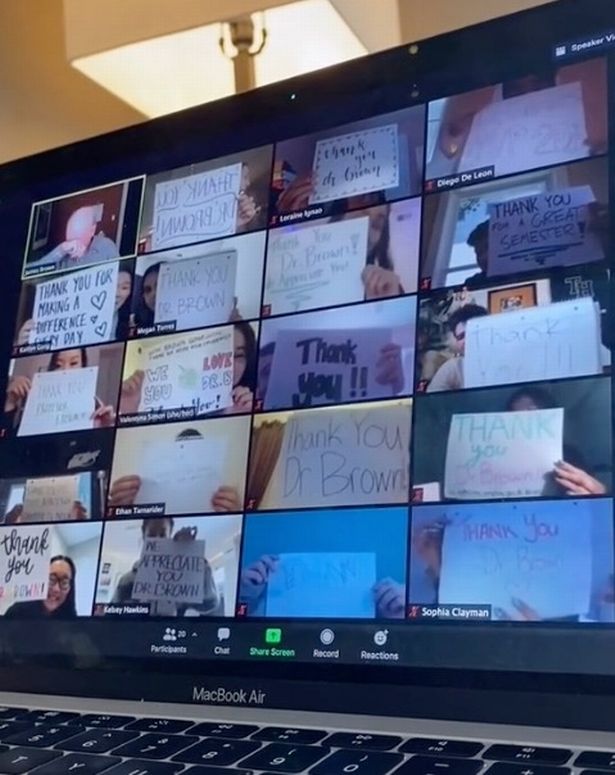 The teacher immediately wells up as he says: "Oh you guys, you're going to make me cry", taking his glasses off and putting his head in his hands in tears, before being able to mutter 'thank you' in return.
Thank you to all the teachers for continuing to educate our children during what is undoubtedly the most difficult global event we've experienced in our lifetime so far! We appreciate you all!
Source: TikTok/@Laurenherrle13