Man Gifts Wife Gin Glass With The Most Hilarious Engraving On It!
Man Gifts Wife Gin Glass With The Most Hilarious Engraving On It!
A 30th birthday gift went very wrong recently when a husband ordered a special message to be engraved on a gin glass for his wife.
As far as birthday gifts go the sentiment was super sweet. For his wife Hayley's 30th birthday celebrations Daniel Woodward decided to order a gin glass with a special message engraved on it.
You know, something like HAPPY 30TH BIRTHDAY BABY! Or LOVE YOU SO MUCH! What he wasn't expecting was this unique message!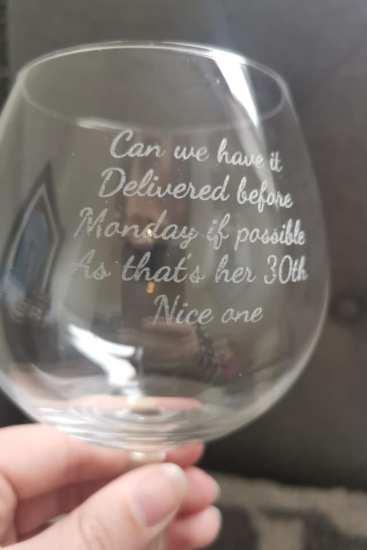 Daniel explained the hilarious gaffe on his Facebook page which has since had thousands of views and shares.
"I ordered Hayley a personalised gin glass for her birthday," he says in a Facebook post. "At the end of the order on the website it said add a note. So I put… 'Can we have it delivered before Monday if possible as that's her 30th. Nice one'."
Who would've thought that that would be the message that would end up on the glass. I mean, seriously!!
"Anyway, she opened it today and that's what got engraved on the f**king glass
— with Hayley Woodward," Daniel said.
So the loving birthday message that Dan was hoping would accompany the glass turned out to be the instructions he left on the order.
Unfortunately there was no video reaction of the gift opening but one family member who was there to witness the hilarity wrote: "Crying laughing
her face was a picture
"
Another friend commented with: "Only you Daniel only you, I know you said you had a few surprises when we were texting on sat night , but f**k me I didn't see this one coming
."
"This is the best thing I've seen this year
" another said.
"I'm laughing so bad
this is quality!! At least you'll never forget it Hayls xxx"
"Ooops – but there won't be another like it lol!!"
"At least Hayley will always remember her birthday now
"
Imagine you order a gift for someone to be engraved and the message ends up being the note you left in the comments section. What would yours say? Mine would say 'if not home, please leave on the porch!!'
Images: Facebook