Influencer Slammed for Ridiculous Job Listing Seeking a Personal Assistant
Influencer Slammed for Ridiculous Job Listing Seeking a Personal Assistant
Over the last few years, social media influencing has become a real career option for many people, as funny as that might seem. For some influencers who struggle to gain followers, it can be difficult to make money, but for the more successful influencers, money is no object as millions flock to follow their social media channels.
But it seems that the most important aspect of the influencer is to hire someone to do almost everything for them, paying them a pittance for their undivided attention.
A job advertisement for an influencer's Personal Assistant has left people shocked with a list of tasks involved with the job including waking them up each morning with coffee, organising their day, cooking, cleaning and being on call 24/7.
The anonymous ad states that the 'lucky' successful applicant will be working for a 'large celebrity' with more than 10 million social media followers.
Some of the tasks the new PA will need to do include but are not limited to:
working 8 hours per day but all be on call 24/7
remaining emotion-free when dealing with the superstar influencer and "bounce back immediately" from any mistakes
be ready to "be the bad guy" when needed
handle 'hundreds of small tasks at once'
wake up the influencer each morning with coffee and 'all other requests'
planning and managing their calendar activities
cooking
cleaning
driving the influencer around in your own car
minimal days off
and – once the pandemic is over – be ready to travel 'anywhere at any time'
Oh golly, how much would this personal slave earn for this amazing opportunity?
$25 to $30 per hour. About $1000 a week. In LA.
Ha.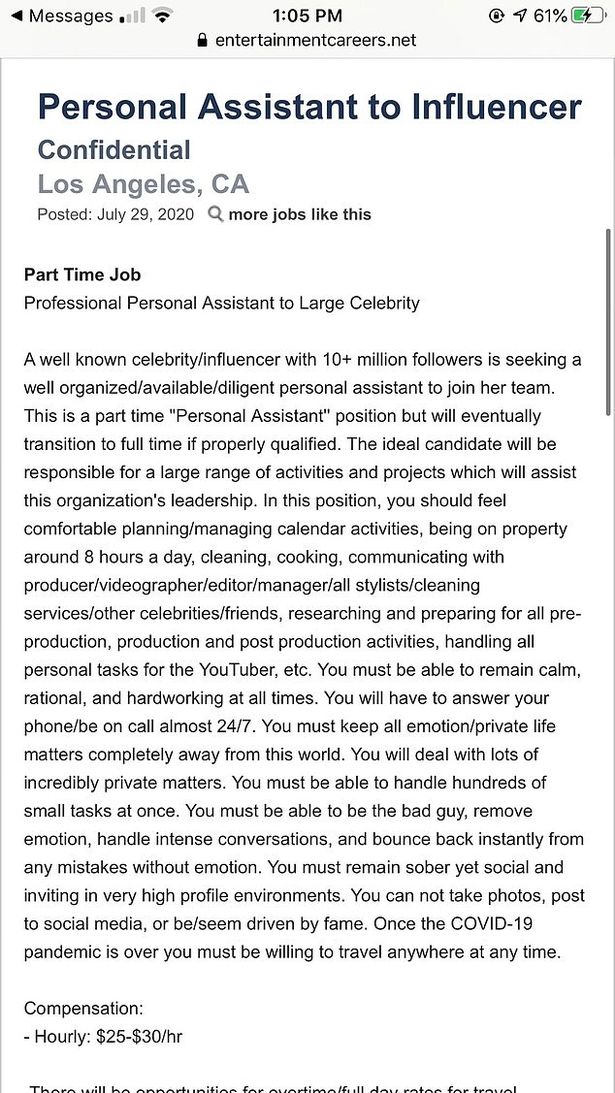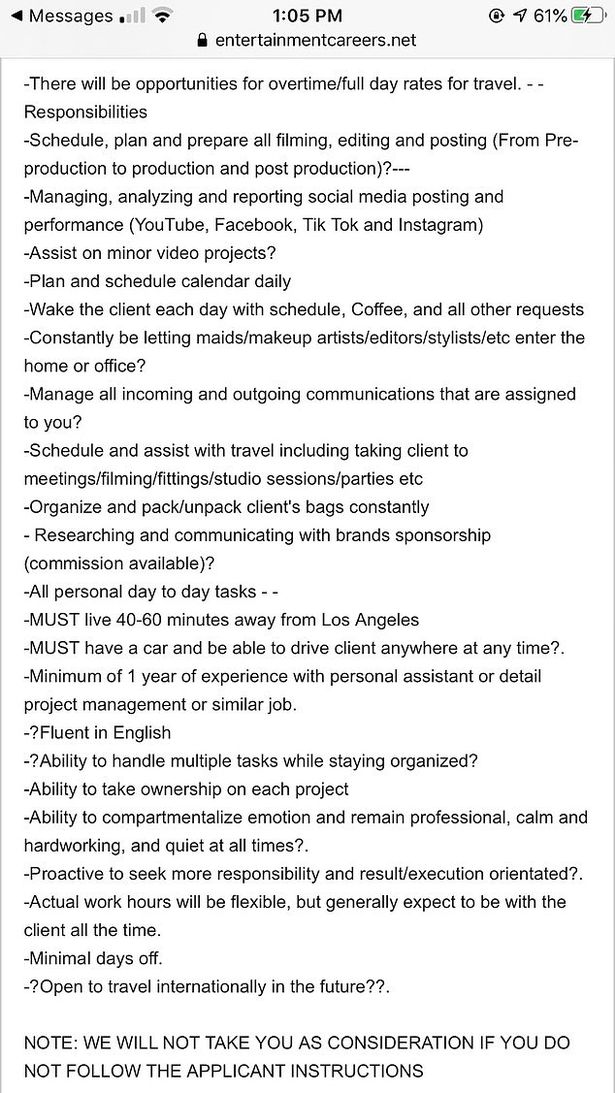 What an opportunity!
True to form, once the ad hit Twitter, people had things to say.
Why are they listing tasks as questions?

You will do this job?
You will work these hours?
You will have these tasks?

Like, I dont fucking know, you're the boss, man.

— Hy-phen (@That1kidvincent) July 31, 2020
Interesting description of a "Part Time Job"

— BK (@MacroRecon) July 31, 2020
My friend lives in LA and is paying $2500/month for a 1 bedroom! So to have roommates, assume someone is paying at least $1000 a month for a bedroom. The pay wouldn't even be enough to cover rent as most places require you make 3-4x the rent to live there!

— em 🌸 (@emilyruthieg) August 1, 2020
Some people were sure they knew who placed the advert.
Ok we need odds on which influencer this could be. I'll start:

Logan Paul and/or Jake Paul: Even money
Kylie Jenner: 5:1
Kim K: 10:1
Khloe K: 20:1

— Judge Existential Dredd (@KevinCardoni) July 31, 2020
Tana doesn't drive and has over 10 million followers. The ad said that the assistant would have to drive the influencer everywhere. Are there any other big influencers that don't drive (I honestly don't know)?

— Tiara Herr 🌲 (@TiaraHerr) July 31, 2020
I 100% feel this is for Tana Mongeau. Who else has trouble getting up that we know of?

— Autumn|WEAR A MASK|BLM (@AutumnAfar) July 31, 2020
I would rather argue with Dwight Schrute for an entire week than do any of this nonsense for a whole day. What a joke!
Source: Twitter/Taylor Lorenz