Keeping the Floors Clean in Your Home is Ridiculously Easy with This Smart Robot Vacuum and Mop Cleaner
Keeping the Floors Clean in Your Home is Ridiculously Easy with This Smart Robot Vacuum and Mop Cleaner
It's school holidays, and we all know what that means! Hungry kids, with stomachs like bottomless pits, staring at the well-stocked pantry, complaining that there isn't anything to eat, whilst simultaneously managing to leave trails of food crumbs everywhere they've been! No sooner have you vacuumed up the dog hair and the lunchtime food crumbs, than something else if dropped, spilled or walked in on someone's feet.  It's like being stuck in your own endless Ground-hog day!
If, like me, you feel like you spend an inordinate amount of time trying to keep your floors clean, it might be time to cut yourself some slack and outsource the job to someone who knows what they are doing…or rather, something! Robot vacuums have come a long way since I first 'invested in one,' over ten years ago. After rescuing it from getting stuck under the couch half a dozen times I decided that it was just easier to do it myself! But, these days robot vacuums come with a whole host of functions that earns them the SMART title.
If you are looking for a excellently-priced smart robot vacuum that can both vacuum and mop your floor (yes, such a heavenly device does indeed exist) look no further than the Smart Robot Vacuum and Mop Cleaner LDS Laser Brushless  Motor Wet and Dry Wifi 2500 PA Electric Water Tank from Elinz. It usually retails for $468, but is on sale right now for just $399 (sale ends 11February 2021.)
Features of the Elinz Smart Robot Vacuum and Mop That We Love
It's Self-Charging
When battery power is low, it will automatically go back to the docking station to recharge and get ready for the next clean.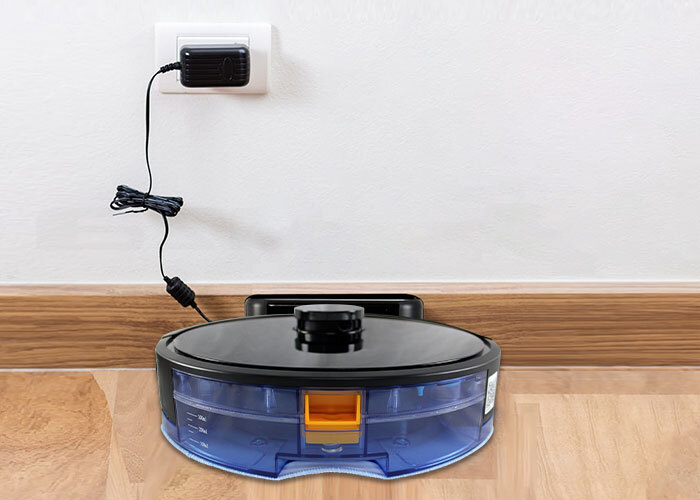 It can work on wet and dry surfaces
Equipped with an electronically controlled water tank that helps you adjust the water speed level from slow, normal and quick for wert mopping small spills and stubborn stains. Perfectly designed to clean various floors like wooden, carpets, tiles and marble etc.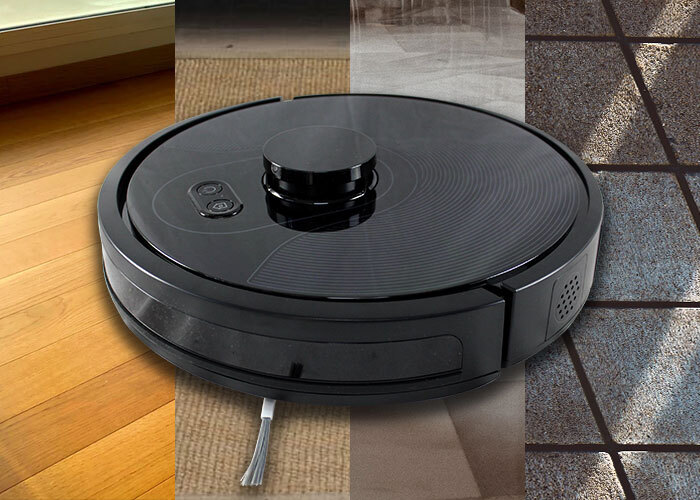 It has a large dustbin
The Elinz Smart Robot Vacuum comes with a large 600ml dust bin, so. You don't have to worry about frequent emptying. It also comes with a HEPA filter to avoid secondary air pollution .
It works with Amazon, Alexa and Google Assistant
The Smart Robot Vacuum lets you start cleaning using voice control via Amazon, Alexa and Google Assistant.
Supports Drawing Virtual Walls on App
You can set up 4 virtual walls which serve as an invisible barrier that uou don't want your smart vacuum to cross. This way you can confine your smart vacuum to a particular area, and prevent it from getting too close to anything delicate or dangerous.
Remembers Where it Cleaned Before Battery Ran Low
When the battery gets low before finishing a cleaning task, the robot vacuum will go back to the charging base to recharge and automatically return to where it left off to complete the job.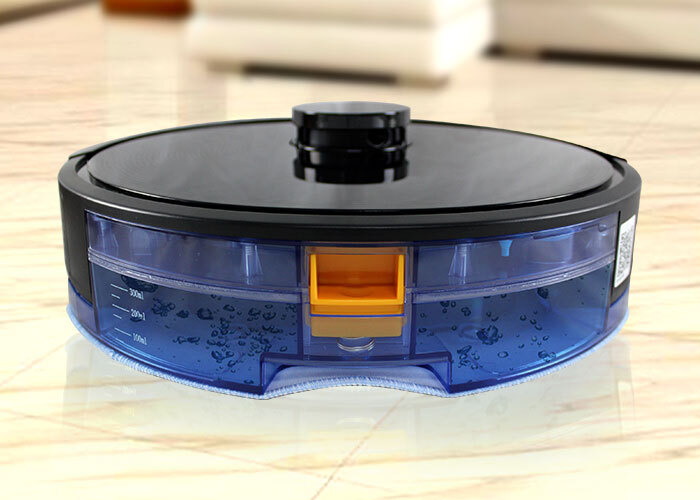 Wifi App and Remote Control
Clean your house even when you are not home – by allowing you to control your vacuum even when you are not home via WIFI with the 'WeBack' app that is available for Android and iOS devices. It also comes with a free remote control for when you are home, so you can manually control your device.
Has a Carpet, Obstacle and Cliff Sensor System
The carpet detection system can automatically increase its maximum suction power on carpets and rugs. It also avoids wet mopping on carpets, so you don't have to worry about your carpet getting wet. Additionally, the cliff sensors can detect stairs and ledges to prevent the vac from falling downstairs. Also, the obstacle sensor system can detect if there are obstacles to prevent it from bumping and protect your furniture, pets, etc.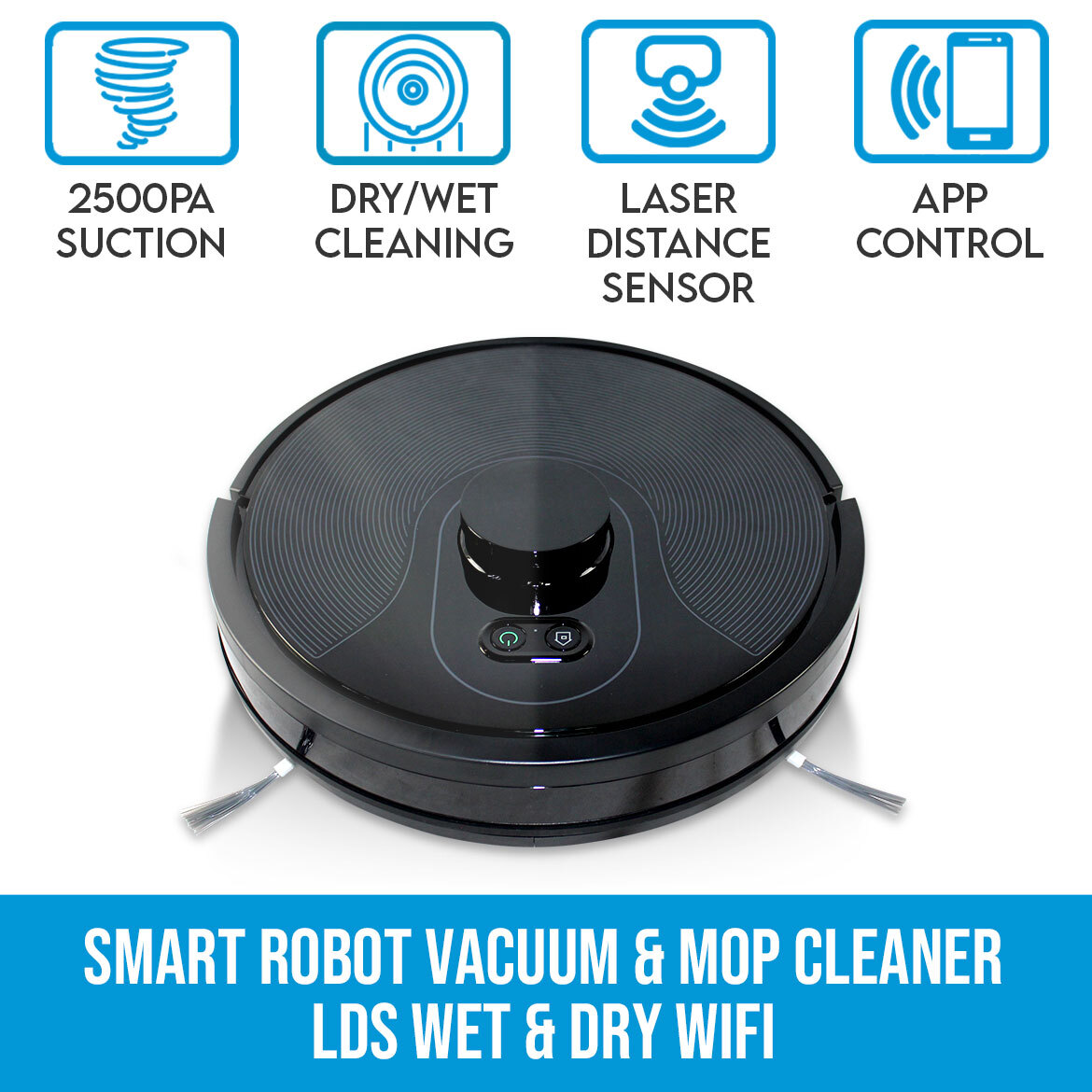 UV Sterilisation
Keep your home not only clean but also sterile with the Elinz Smart Robot Vacuum. With the built in UV lamp, this robot vacuum can also help disinfect and sterilise your home using ultraviolet beams to kill bacteria and other harmful microorganisms.
3200mAh Battery Capacity
With high 3200mAh battery capacity it can provide a long working time up to 120 minutes on a single charge. Although of course, the working time will be shorter if you choose a higher power mode
It has Laser Distance Sensor (LDS) + VSLAM Navigation
With the LDS navigation feature, this robot vacuum can detect and accurately record all areas to create an accurate positioning and map construction. While the VSLAM algorithms generate a real-time map of the place for the best cleaning plan paths and to avoid leaving uncleaned areas.
OTA update
This can help the buyers remotely upgrade their robot vacuum's firmware and software for it to work smarter.
It has an Anti-Jam Laser Head
This feature prevents the robot vacuum from getting stuck under their bed, sofa edges, and etc.
5 Cleaning Modes
It has 5 cleaning modes that they can easily switch between to using the mobile app. The 5 cleaning modes are: Automatic cleaning, partial cleaning, zoning cleaning, scheduled cleaning, designated spot, and etc
If keeping the floors clean in your home without the hard work and frustration of doing it yourself, the Elinz Smart Robot vacuum is perfect for parents of both children and pets! Not only does it pack a number of fantastic functions, it represents great value for money. Don't forget, if you purchase one before the 11th February, you can enjoy a further discount. The Elinz usually retails for $468, but is on sale until midnight on 11th February 2021 for just $399.