What Not To Wear: To A Trendy Cafe
I am fairly confident that when it comes to ordering a coffee, I can tell my macchiato from my cappuccino. Fairly confident that I can sit in any given cafe with any combination of friends, family, kids or puppies and feel comfortable. Fairly confident that I can throw together an outfit that looks reasonably stylish and doesn't expose any nipples, fat rolls or vomit stains. Or so I thought.
You might think this is an exciting tale of how I got my baps out at the local coffee joint. It's not quite that titillating *cough*, but it is pretty embarrassing. See, I thought that I would just throw on my trusty, buttery soft leather jacket for a crisp autumn morning latte date. It's easy and it's kinda edgy and I thought it was just the ticket. Until I realised that we were sitting in an all-organic, all-vegan, knit-your-own-headwear type of cafe. The type where people generally wear hemp and don't wash their hair*, though the coffee is always stellar.
It became one of those situations where all is fine until you realise you have made an awkward faux pas, and then it slowly gnaws at you. Slightly glassed-over eyes start to bore into your leather-clad back. It dawns on you that your boots are also leather, that they can probably tell you had a big steak for dinner last night and that they just know you are sometimes slack with the recycling. You wish you'd ordered a takeaway coffee but because you didn't bring your reusable cup, it isn't an option.
What would've made a better outfit for this situation? Something vintage or up-cycled would be ideal, but because I possess zilch skill in the op-shopping department and even less talent at sewing, I can't kid myself that it will happen. For a chilly morning coffee run, try a bit of merino – it's ridiculously light and ridiculously warm, and on the eco side, Smitten Merino is locally made and sourced from sustainable Australian wool. It tends towards 'investment piece' in terms of price for most of us, but speaking from experience, you'll get so much wear out of the one piece that it's well worth it.
There are other types of trendy cafes requiring their own unique dress code. Inner suburban yummy mummy run? Neutral hues and classic cuts, preferably from an appropriately pricey brand . Even the pram-walking groups here don't do daggy, so leave your comfy old hypercolour tshirt and kmart trackies at home.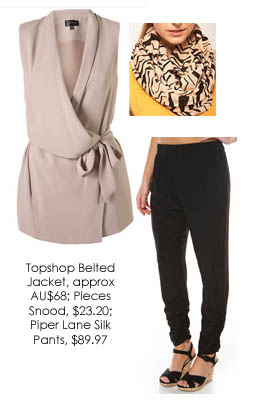 Meeting some of your cooler friends in an uber-trendy, arty area? This can be tricky for even the most confident dressers, but you may notice a "this-is-so-uncool-that-I'm-making-it-cool" vibe permeating the hip young things. In fact, this is the time to bust out that hypercolour tshirt in a fashionably ironic way. Seriously. It's probably genuine vintage so will earn you even more cool points. You might even end up on someone's blog. (But to be suitably attired should the school run follow arty coffee date, try a bold colour and a touch of quirkiness with some patterned tights).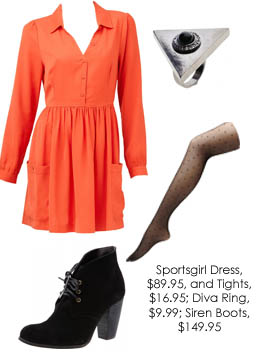 *I'm kidding, this is a strictly tongue-in-cheek observation. Though the ratio of dreadlocks:brushed hair is decidedly tilted.
Katrina is a shopaholic, who, despite running well-known online boutique Frock You, still finds copious amounts of time to shop for her own and her 5 year-old daughter's overflowing wardrobes. She doesn't understand why some people wear leggings instead of proper pants, and thinks all Mums should shake off the shackles of ¾ pants and Crocs and have confidence in developing their own style!